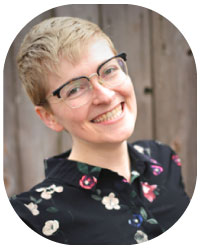 Laura Holthausen, LMT
Licensed Massage Therapist
(she/they)
Laura (she/they) graduated from East West College of Healing Arts in 2019. Laura believes that therapeutic touch can nourish the spirit, break cycles of pain, and nudge the body's own amazing healing process in the right direction. Through massage therapy, their intention is to help clients feel more at home in their bodies. Laura enjoys collaborating with clients to create a plan tailored to long-term goals as well as immediate needs. They care deeply about providing a space where clients feel safe and at ease, where all bodies and gender identities are welcome. Laura places a high value on clear communication and informed consent, which they believe are critical to a truly healing massage.
Laura loves adventuring, hiking, and camping with their partner Nikki and dog Biv. Rainy days are for snuggling up with their two cats and a good book.
Payment Types: Cash, Check, Credit Cards, Automobile Accident Insurance and in the process of becoming paneled with insurance plans.