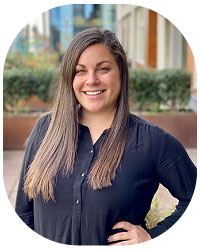 Megan Robles, DC
Chiropractic Physician
(she/her)
Dr. Megan Robles was born and raised in the desert of southern California. Growing up playing sports, she developed an interest in human movement and function, and after receiving her Bachelor of Science
degree in Kinesiology, she moved to San Francisco to further her education. She graduated from San Francisco State University in 2015 with a Master of Science in Exercise Physiology, and during this time
developed a love for teaching, while also working in corporate wellness as a personal trainer and fitness coach. She realized through working one on one with humans that she wanted a career that focused on human movement and function, thus bringing her to Portland, Oregon to obtain her Doctor of Chiropractic degree from University of Western States.
Dr. Megan graduated Cum Laude in 2019 from UWS and through her clinical experience she grew to love treating all humans and helping to educate them on how they can work to improve their function. Dr. Megan utilizes diversified chiropractic technique and a large variety of soft tissue techniques, including instrument assisted soft tissue modalities, pin and stretch, muscle energy technique, kinesiology taping, and rehabilitative exercises aimed at promoting musculoskeletal healing and function.
In her free time, Dr. Megan loves spending time with her partner Chelsea and their sweet and sassy pup Otis, hitting the gym with all her favorite queerdos, as well as enjoying all of the food, drinks, and activities that Portland has to offer, especially professional women's soccer, go Thorns!
Dr. Megan is looking forward to helping you with all of your musculoskeletal problems at Asha Integrative Wellness.
Payment Types: Cash, Automobile Accident Insurance, Workers Compensation, Care Oregon. Now accepting Blue Cross Blue Shield (Regence), PacificSource, Providence, Aetna, and Cigna.