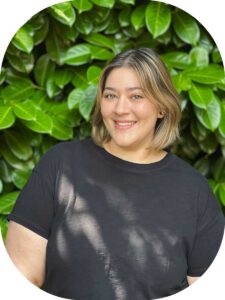 Taylor Howard, LMT, CYT
(she/they)
Taylor has been a massage therapist for 9 years and has recently completed a 200-hour yoga teacher training.
Approach and Purpose:
My focus is on relieving muscular tension and untangling restrictions, all while emphasizing the mind-body connection and emotional experience.  In practice, this means weaving traditional massage techniques with thoughtful movement, conscious breath, and compassionate touch to soothe the nervous system and relieve tension. My ultimate goal is to promote lasting relief and comfort while bridging the gap between physical sensations and emotional experiences so that you feel more connected to your body.  
Blending Yoga & Massage:
Yoga training has deepened my understanding of the body-mind connection and the use of movement as a form of healing. It isn't just about poses; it's about meeting yourself where you're at and embracing each breath and movement, no matter the scale. My aim is to blend these principles with the tactile relief of massage to help find fluidity amidst the tension, no matter where your current movement boundaries lie.
Collaborative Healing:
Collaboration, communication, and consent are key in my practice. Your insights help shape each session – whether it's a movement challenge or a specific area requiring attention. I believe in working together and respecting your preferences to ensure you feel empowered, safe, and respected throughout your healing process.
Massage Techniques:
I offer a range of massage techniques to tailor sessions to client needs and preferences, including:
Swedish Massage

: Known for its relaxing and gentle strokes.

Deep Tissue Massage:

 Targets deeper muscle layers for therapeutic relief. 

Myofascial Release:

 Focuses on releasing fascial restrictions to increase tissue mobility.

Cupping:

 Utilizes suction cups to release tension and improve circulation.

Hot Stones:

 Uses heated stones for relaxation and tension relief.

Gua Sha: 

A technique that uses a smooth tool to gently scrape the skin in a rhythmic pattern promoting circulation and tissue mobility.
In addition to massage therapy, they enjoy being outside in nature as much as possible hiking, camping, paddle boarding, and looking for pretty rocks. When inside they like to cook, do yoga, read books, or watch TV.
Payment Types: Regence/ Blue Cross Blue Shield, PacificSource, Providence, Cash, Check, Credit Cards, and Automobile Accident Insurance